Last Update May 28th, 2017

What is the BEST underwear for thrush.
Before we get into how underwear can cause or prevent thrush, let's first understand exactly what thrush is!
Vaginal thrush is a yeast infection caused by Candida albicans. It is a super embarrassing ailment that can rob you of a lot of comfort, peace of mind and that perfect date night experience! Simply put, there's nothing worse than when your vaa-jay gets itch-ay.
But…fear not! You are not alone.
Vaginal thrush is a very common infection that affects a majority of women in their lifetime. In fact the stats state that over 75% of all women experience thrush at least once! Although for some women the infection is worse and more difficult in the sense it keeps recurring. If you are one of the poor women suffering from recurrent thrush then quickly read on to understand what causes it and how you can help prevent it, simply by choosing the right underwear.
Ok, so how do you know if you have thrush?
Itchiness around the pubic area that results to soreness.

Thick, creamy white and odorless vaginal discharge, although sometimes it's watery.

You may experience some discomfort and pain during sex.

A stinging sensation when going to the toilet and passing urine may be present.

You notice a red, swollen vagina that may have sores.
What causes vaginal thrush?
Normally, we all have a small amount of bacteria and fungi, even Candida albicans, in the body and the vagina too without causing any problem. There also exist harmless, (good) bacteria that also live in the vagina and stop candida or other harmful microorganisms from thriving.
However, some factors such as illness, medication or stress may disrupt the natural balance of microorganisms and thus make you get thrush. The good bacteria reduces in number and cannot keep the fungi in check, thus they multiply rapidly and invade the vagina and cause an infection.
The fungi normally thrive in warm and moist places that are airless. Thus the vagina is a common site for a candida infection.
Among the most causes of thrush include low immunity, having diabetes and taking antibiotic medication. But a major contributor to development of thrush is by wearing improper underwear. While there are many treatments for thrush, you can easily prevent thrush by choosing good underwear.
So how does underwear cause thrush?
Now that we have gone through the causes and symptoms of thrush, let's look into how your underwear choices can help you get rid of (and more importantly – prevent) stubborn yeast infections.
You may have realised that underwear you pick is important in relation to developing or curing thrush, but maybe you haven't given this decision the gravitas it deserves.
Ask any woman and she'll tell you that deciding which underwear to buy can be very, very confusing. Do you go with pants or briefs? Is the material also important? Do you choose cotton, silk or lycra? I mean how complicated can it be!?
Choosing good underwear can be life changing for you.
But don't let that overwhelm you. I'll explain.
The wrong panties contribute a lot to vaginal health especially because you wear panties all day long. The wrong environment encourages yeast to grow. Synthetic materials like nylon and lycra trap moisture and heat close to your skin. That provides a great environment for yeast to grow.
Cotton is the best option because it absorbs moisture and sweat leaving you dry and cool.  Silk is also a good fabric. Cotton pants remove moisture from the skin and discourage the growth of yeast because they thrive in a moist environment. The natural cotton fibers keep you fresh for longer. It is for that reason that all panties should have cotton to avoid wetness. The main aim is to prevent the vagina from being constantly warm, moist and airless. Cotton underwear can help significantly.
Breathable pants made from breathable cotton fibers allow the skin to breath and sweep away the moisture in the body. Once you eliminate the moisture away from the body and let it evaporate through the fiber you let the skin remain cool and dry thus prevent the growth of yeast because they can't survive in a dry environment.
More quick tips to prevent thrush
Although thrush is a common aliment you can prevent it from occurring.
After all, prevention is alway better than a cure!
Furthermore, the symptoms like itchiness are just plain annoying, demotivating and embarrassing.
Change panties after workout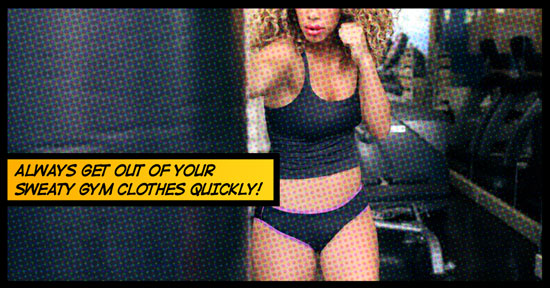 Don't stay in sweaty gym clothes for longer than you have to. When you come from the gym be sure to shower and change into clean and dry underwear as soon as possible.
Dry your vagina properly after taking a shower to get rid of moisture. Always carry extra underwear in your gym bag. When you take care of your hygiene you smell fresh and prevent yeast infections. The gym is your friend, but not necessarily your vaginas.
Avoid wearing very tight jeans or undergarments
Jeans, tights and leggings trap heat and moisture to build up in the pubic area. Choose loose pants to aid in breathability. The fabric should also be light. Jeans are a heavy fabric that do a great job at blocking air from entering or leaving, so the air is trapped and in turn, the area gets moist. Whenever you wear jeans always ensure that you wear cotton panties underneath. Also, during the night, avoid wearing tight fitting pajamas. Instead, choose loose fitting cotton pajamas. Remember you need to let the vagina breath because dark + moist = the perfect hideout for yeast.
Don't wear underwear at night or when you're at home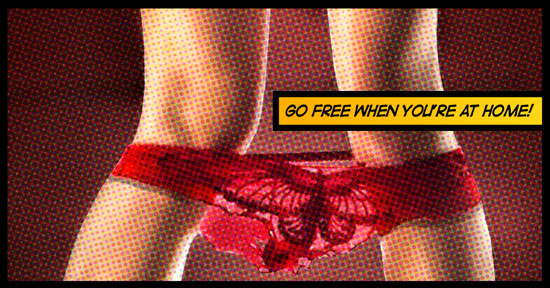 Ok ladies, lets get liberal! Get naked as often as you can even during the day if you're all alone and at night. You have worn panties all day, now it's time to let your lady parts have a rest. Do you know that relief you get when you kick off your heels or loosen your bra after a long day of work? I bet you do. Why should your vaginal area miss out on a similar relief?
Wearing breathable and loose fitting pajamas or sleeping without panties at night can help keep infections at bay.
Let's find the best underwear that can help deal with the thrush menace completely.
Here are the best five choices for loose, light and well-fitting underwear that can combat thrush.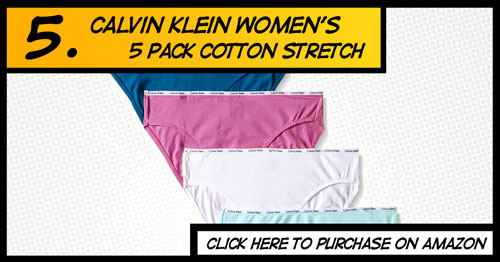 Calvin Klein bikini is made from 95% Cotton and 5% Elastane. Cotton panties help to keep you dry and discourage the growth of candida. They are designed with cotton stretch for comfort and shape retention. The elastic waistband helps it to fit correctly without being too baggy or tight. These bad boys are one comfortable pair of knickers. Furthermore, they come printed with the iconic Calvin Klein logo. Say goodbye to recurrent thrush infections with the cotton stretch bikini underwear. If you do intend to purchase, please make note that these seem to run a little small.
Here's what other customers are saying about these Calvin Klein stunners.
Amazon review: Natalia. [Usr=5]. – "Love these! Fits perfect on 27 inch waist. Very comfortable, they do look smaller than usual but it doesn't affect me in this case. I would recommend buying one size up from your usual size. Other than that, these are great and I highly recommend!"
Amazon review: – Amazon Customer. [Usr=5]. "On the thinner side compared to my other underwear but fit as expected. Very comfortable."
4. Jockey women's underwear classic French cut 3 pack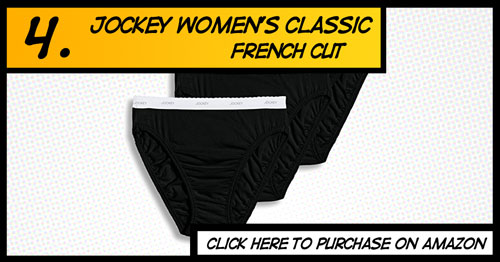 The Jockey underwear is made with 100% pure cotton to offer you comfort like no other. Cotton makes the underwear soft and comfortable for long wear. The underwear has a higher-cut to give a flattering, smooth look. Jockey classic French cut panties will not only make you feel sexy but also keep away moisture from your hoo-haa, leaving you dry and starving the fungi at the same time, so that they pack their bags and leave for good.
Here's what other customers are saying about Jockey underwear.
Amazon review: –

(5 / 5). "These are my favorite. Perfect fit and being all cotton they are recommended by my doctor. Cotton is better for anyone prone to infections."
Amazon review: – M. H. Gepharton. [Usr=5]. "I've worn Jockey French cuts for many years now and I find them very comfortable. I love cotton fabric as it breathes whereas synthetics don't and can cause problems. I highly recommend Jockey products!"
3. Hanes Women's Cotton Briefs 6 Pack White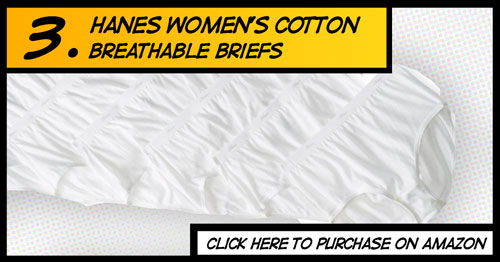 Product link: Hanes women's underwear is made from 100% soft, breathable cotton. The breathable cotton mesh allows the release of moisture away from your pink lady leaving you dry and fresh. They keep you dry for longer even on a hot day. Isn't that good news? Also, you don't need to worry about panties misbehaving because they have no ride up leg bands. The undies give total coverage on the front and back. They come preshrunk for a lasting fit. You may select different colors from white to prints or solids. The colors and print may vary depending on the package.
Here's what other customers are saying about Hanes underwear.
Amazon review: – Dawn A. Valenti. [Usr=5]. "Quality product. Great fit. Very comfortable."
Amazon review: – WY. [Usr=5]. "Great basic white cotton underwear. Just what I needed for a healthier lifestyle. I stopped to wear the fancy underwear from Victoria Secret and so on in adoption of cotton dye free basic underwear. They fit as expected."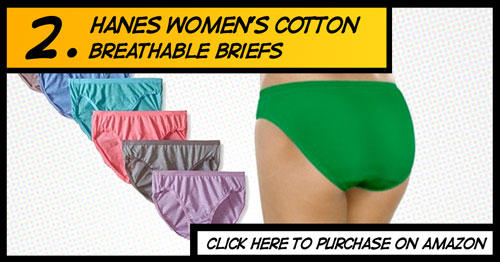 Fruit of the Loom women's beyond soft briefs come in a convenient 6 pack. They are made from soft fabric made up of a blend of 60% Cotton and 40% Polyester that is durable and comfortable. They are designed to give maximum comfort for the whole day. Whether you work in the fields or in the office or in the comfort of your home, these panties absorb moisture and thus curb growth of candida.
The fabric gives a comfortable feel and does not shrink or lose color and fits properly. Each brief features a tagless, flat microfiber waist and leg bands that are soft on your skin. These give the panties a smooth finish and you can wear them with any outfit without having to worry about annoying underwear lines. The briefs come in lovely assorted colors so that you have different color choices for different days.
Here's what other customers are saying about Fruit of the Loom underwear.
Amazon review: – Satisfied Customer. [Usr=5]. "Very comfortable. Fit well and are so soft. Will buy more."
Amazon review: – Andee. [Usr=5]. "Great underwear. Very soft. No tags, so great for sensitive skin. Size is as expected-true to size. Wish they came in white, nude, and black."
And now the number one underwear is?
Drumroll please…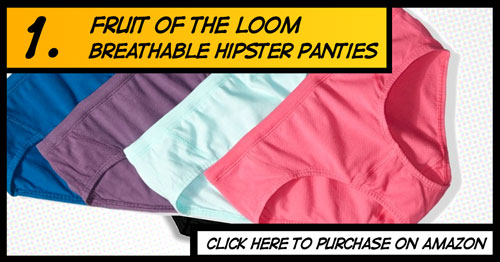 These Fruit of the Loom hipster panties are made from a breathable cotton- mesh fabric that support the flow of air as well as wicks away moisture from the pubic area leaving you cool and dry all day long.
The fabric is 91% cotton. If you have followed our conversation now you understand the equation; cotton = less moisture, which = no candida overgrowth.
You can choose from a variety of colors that are available. They also have a smooth and comfy waistband to give you the maximum comfort.
Amazon review: – Jotaluke. (Usr=5) – "I took a chance and bought on line. I am very happy I did! These underwear are SO comfortable! They fit and feel amazing! I am going to buy another pack to have more! The material is thick enough to have a good feel and is breathable as they say. The size was accurate as well. I only wish they had them in more colors!"
Amazon review: – Tess- (Usr=5) – "Wonderful, no seams to have hurting your sides and they breathe too. So nice. Love them."
The final word on thrush:
Thrush is a leading complaint of most women. Sometimes you may feel overwhelmed and confused about the steps to take to completely get rid of thrush. The best choice is preventing the atmosphere that would encourage the growth of candida in the first place.
Underwear made of cotton absorbs moisture around the pubic area and helps you to remain dry. Since candida thrives in a wet environment, when you choose undies that locks in moisture you help facilitate the problem.
Choosing the right underwear is a great preventive measure against thrush. Be sure to check out the top 5 underwear that will give you the ultimate comfort and keep infections at bay.